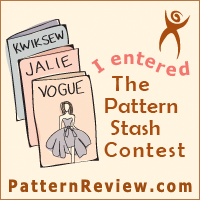 Since this month's Pattern Review contest works so well to bust some stash, we are working together on a little "Contest-along" in our
Stashbuster Facebook Group
.
In all things competitive it is a good idea to map out a strategy - and here is the utterly essential strategic step:
If you want a chance to win the gift certificate prize, don't forget to
A)
BY December 31 REGISTER
as a member of
PR.com
B)
join the contest
So this contest is a quantity contest. Prize 1 of 2 goes to the user who bangs out the highest number of unique pattern review entries. Prize 2 of 2 is determined by random-lucky draw: each item you enter becomes a ballot.
This means that the number of stashed patterns you crack is the crux, not the quality of your sewing, fitting, personalizing. The key is to line-up a series of patterns that you can pound out one after another.
Easy Peasy - make sure you select patterns with quick turnaround time and you're good to go for the PR component. So now we need a stashbuster strategy.
We want to make the most of this opportunity: Here are some possible approaches
A great way to approach this contest is as a wearable muslin audition. Why not pick 5 similar patterns and a bunch of yardage and make all 5 back to back? Quickly alter each pattern with standard adjustments, and move on to the next pattern. At the end assess each result - chart the results and you might end up with the components for the ideal garment.
how about clearing up a section of your stash? I have a block of untried Perfect Pattern Parcel patterns - what if I hammered through those? I may have undiscovered gems in the stash!
Seamwork Patterns! how many untried patterns do you have from the first 7 months? These are ideal churners - an hour or two each:

12/14: Oslo (cardigan), Valencia (bag), Madrid (bag)
1/15: Manila (leggings), Savannah (cami)
2/15: Florence (bra), Geneva (panty)
3/15: Osaka (skirt), Aberdeen (top)
4/15: Bristol (skirt), Astoria (sweater top)
5/15: Sydney (topper/shawl), Astoria (dress)
6/15: Aurora (tank top), Mesa (shift dress)
7/15: Seabrook (bag), Nantucket (shorts)

Big 4 BOGO and Bundle deals - I bet you have a few!
Any sewn item from an untried pattern you have owned for more than 6 months is eligible!
Go back to the
Facebook conversation
- what's a strategic approach you can suggest as an approach to the pattern list?
next up: Fabric and Pattern tracing preparations