1993.
(or was it 1994?)
We were organizing for my BFF'S wedding, and selected lace tops to wear with pretty skirts. We even bought the tops before my GF got super-clever and simplified her wedding (just me in a nice outfit as her MoH). I have no idea what happened to the top. I have looked for it over the tears to no avail. I dream about that pretty, golden and taupe lace once in a while; wearing it with a navy blazer, or a pair of palazzo pants (it WAS the 90's).
So a while ago in the remnant bin at
Fabricland
I found 1.5 metres of stretch lace fabric, and I pictured wearing it as that top. Sure, it wasn't gold - it was pink and grey - but I
wanted the top.
Into my stash went the fabric.
Recently I have pulled out the lace and fondled it, I wondered how difficult it was going to be to work with, I read articles that had you cutting around the lace to make invisible seams, read
Threads 175
about a Guipure skirt, and (the proverbial
straw)
I have been considering a six item capsule wardrobe for a
Patternreview.com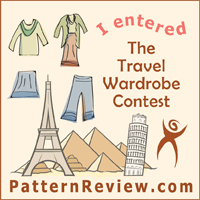 So I was in a manic sewing mood and I am out of tracing paper - so I am limited to a recent pattern -
Hudson Pants
? another
Julia Cardigan
?
I was thrilled with how easily this sewed up - I shortened the arm by (cough4inchescough). It looks like I should do a FBA next time (there's a self correcting "dart" there). My serger is off sprouting angel wings somewhere, so it was stitched with a little zigzag and it looks great! I used self-fabric for the binding - and it worked (but I DID topstitch in the same little 1.5x1.5 zigzag). It looks great!
I know - I need to wear a cami with it, but I LOVE THIS TOP!
WOOOOOOFREAKING HOOOOO!
Meters Used on this projects: 1.5
Total Meters Busted 2/07/2015: 13